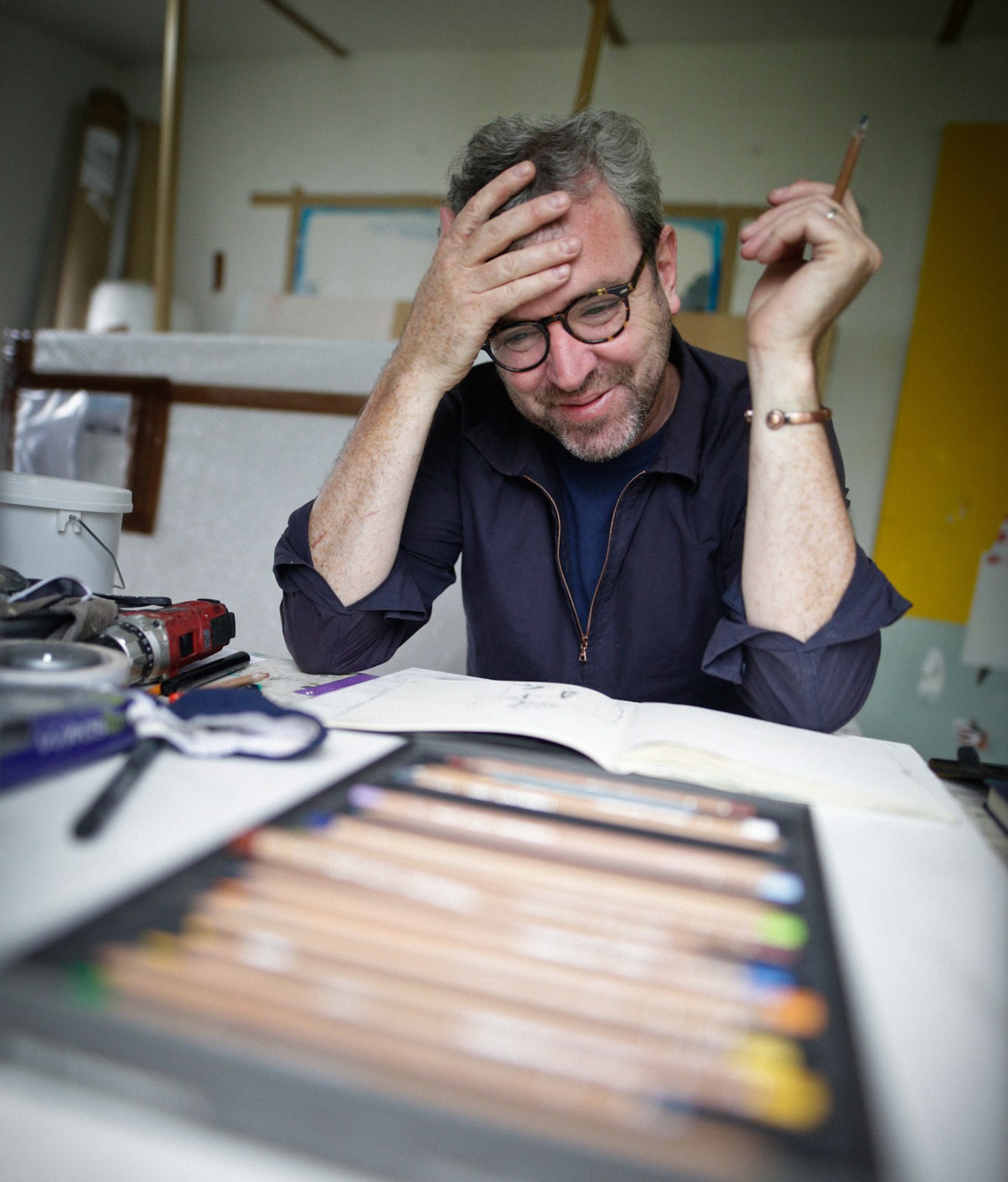 Working from a small studio at the back of his home in Thurles, Co. Ireland, where he lives with his wife and two small children, Brian Harte (b. 1978) uses the experiences of his daily life to create complex paintings of various scale. Much of his work expresses the landscape of interior spaces, where daily experiences, figures, and/or routines, exist simultaneously. Many describe banalities such as toys left behind, sweaters, crumpled beds, but they also feature the unexplainable such as dismembered legs, floating tables, and Egyptian heads. "As soon as you think there's a narrative there, it's gone," he says. "But I'm looking for that. I want them to be on the edge of failure all the time."
In truth, the dynamics operating within these topsy-turvy spaces are produced through a restless intuition and an unwavering dedication to all those tiny moments that pass us by each day: a quick gesture that his son makes, his wife relaxing in a chair, a wave, a jump, a fall, or even something someone said once. These are layered in a way that suggests that this is Harte's reality, acutely felt and carefully conveyed, seen all together all at once. It's a suggestion that thoughts, memories, feelings, and external contingencies of every kind can never truly be left behind. They may be forgotten, but nevertheless, always there, always present.
Despite Harte's claim that his work "might be steeped in Modernism," it's also a deft hybridization of both, Modernism's emphasis on the grid and today's emphasis on the cloud. "I want them to look more like a network of things," he explains. "Disjointed maybe, but a network of things, because that is how we exist at the moment."
Brian Harte (b. 1978, County Tipperary, Ireland) graduated from the Crawford College of Art, Cork in 2002. Recent exhibitions include solo shows at Art Antwerp with Tatjana Peters Gallery Ghent, Belgium (2022), MAKI Gallery, Tokyo (2023, 2021), Annarumma Gallery, Napoli Italy (2021), GNYP Gallery, Berlin, Germany, (2020, 2019, 2017), These Days Gallery, Los Angeles, USA (2020) and Ever Gold [Projects], San Francisco, USA (2018). His work is held in both public and private collections, notably, Kunstmuseum Wolfsburg, Germany and The Crawford Municipal Gallery, Cork, Ireland. More recently, it has been acquired by the Arts Council of Ireland, and the OKETA Collection Japan.