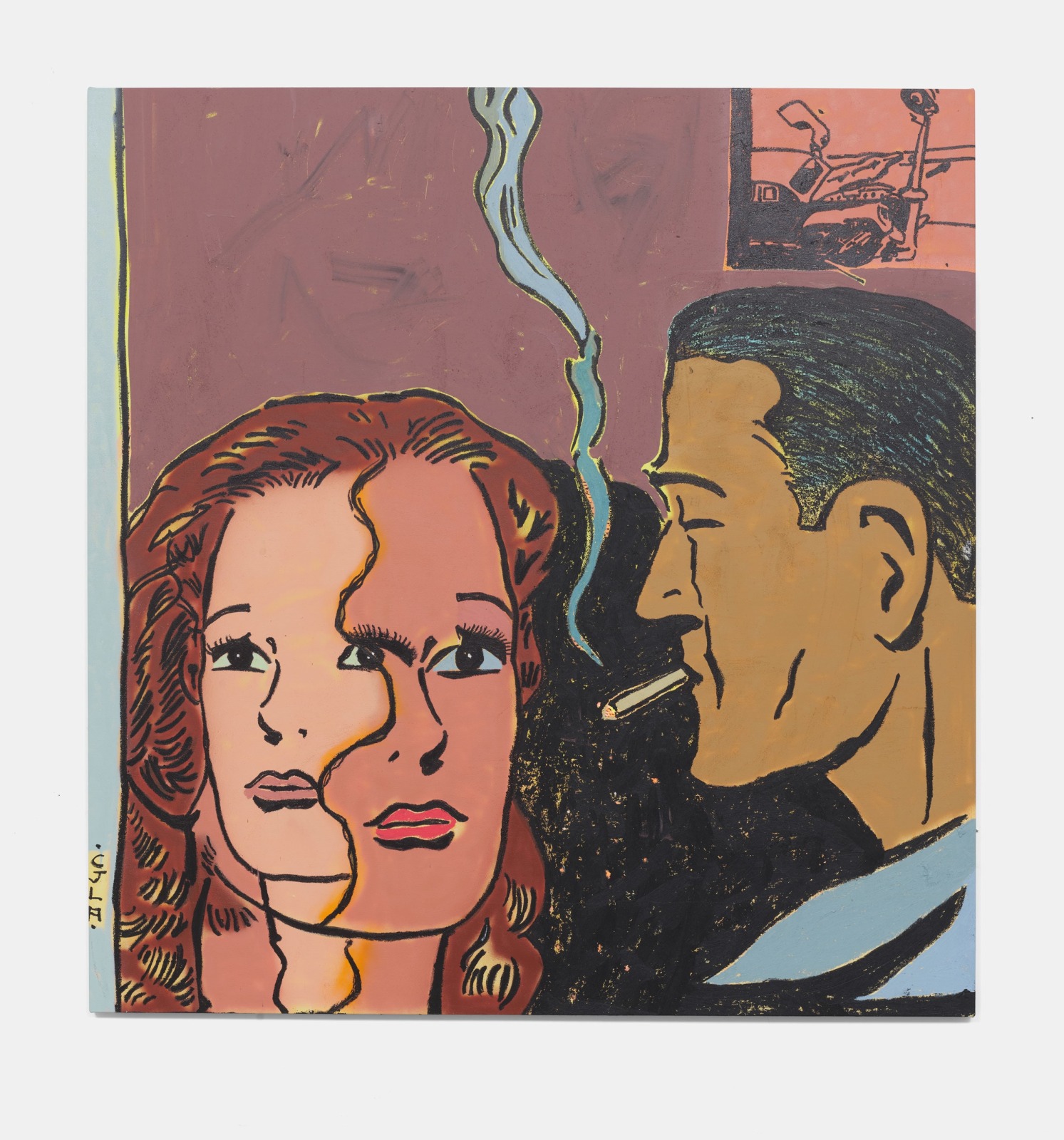 Simchowitz is pleased to present Longevity, the gallery's first exhibition of the Los Angeles-based artist, Coulter Jacobs.
Born Jacob Coulter in Los Angeles in 1977, Jacobs received a degree in journalism from San Diego State University in 2001. While maintaining a full-time union job as a Los Angeles Department of Water & Power water utility worker, Jacobs has constructed an expansive art practice including two published novels, books of poetry, painting, sculpture and drawings. In Longevity, Jacobs presents each facet of his practice in his debut solo exhibition. The exhibition is on view from August 6th – 27th, 2022 with an opening reception on August 6th from 5PM - 8PM.
In the artist's mind, Longevity is a testament to the patience and wit that art demands. Careers in art can explode and sizzle for decades, but Jacobs has also watched as the careers of countless artist friends burned bright and blow away like a tumbleweed. It is a capricious community, fraught with competition and changing tastes, and one that prefers short-term gains to anything resembling "longevity."
"Longevity is about manifesting that creative instinct," Jacobs explains. "The trajectory of a career as an artist is to keep yourself inspired so that you can continue to inspire others. It can't be a flash in the pan."
Jacobs has nurtured a fascinating, slow-burn art career that has taken him from his grandmother's attic in Long Beach, "writing, trying to be Jack Kerouac or whatever," to a hard-nosed painting studio in Pico Union, where a fire destroyed his space and erased his archives in 2017. He slowly rebuilt his practice of noir and tattoo-influenced abstraction and now works out of a custom-built garage studio at his home in San Pedro – when he's off work. He is also a chapter president of the esteemed Southern California car club, Duke's.
Jacobs cites dozens of artists, musicians, and writers as inspiration in his practice: John Altoon, Bob Dylan, Burroughs, Guston, Frankenthaler, Mitchell, Reinhardt (Django and Ad), amongst many, many others, yet the hard-living, wildly curious Martin Kippenberger might be a more apt parallel – his career and life a totalizing work of art. Jacobs is a voracious reader, filling his paintings with reference to psychology, literature, film, and scene-legends in the South Bay and underground tattoo and car communities.
"I still consider myself a student. I think for every artist, this education never ends," he says.
Coulter Jacobs' practice is a life-affirming one. His excitement for art and its discourse, despite an upbringing which put him "as far away from fine art as humanly possible," can make us remember the primal, human necessity for art-making and the jouissance of aesthetic expression.
Born in 1977 in Los Angeles, Coulter Jacobs received a degree in Journalism from San Diego State University in 2001. Working in the same manner as a songwriter does with sound and voice, Jacobs is an artist who turns the inside out, exposing the underpinnings of subconscious thoughts into developed realities that hint at the natural world. Jacobs practice with painting is an experiment with the medium itself, pushing its boundaries to discover new forms and express themes of our shared human condition. In addition to painting, Jacobs is the author of two novels and several collections of poetry and is currently working on a third novel. He is the President of the Duke's Car Club South Bay Chapter and maintains a studio in the San Pedro neighborhood of Los Angeles.
Artist Statement

"Longevity"

The shortcut will take twice as long...the shortcut, the phony, the unwrinkling grief, like an x-ray in front of a floodlight, will be the first option...your entire life.
Do not take it.
We all know this. Would rather not know it. The Artist is immortal; alive to comfort this knowledge. It is why society is in conflict with the Artist.
To make life tolerable. To give us red summers, blood and charcoal, black satin and her skin that is velvet set in the sun for 10 or 15 minutes... Doors smile, the sleek, sexy danger of a jaguar flashes and disappears and is never sorry — ever.
In here nobody stops me, nobody asks what I am doing. Nobody applauds... Music falls over the edge of the peninsula and I rage, and weep, blackout, I am sad as a dirty ashtray, I am content, I battle that inner dialogue, "you're no good - this is a waste of time, there's shortcut blvd. and agony wy... go ahead and exit here..."
But I never do and I never will. My commitment is to Longevity. To service. To step aside from the aging process. Incessant Endurance. Eliminating all bogus rewards. I gotta get this stuff out. And I'll tell ya what — the truth doesn't hurt as much as they say...
Love is elastic, it stretches and accommodates, and God changes his appearance all over town, on Cahuenga and Vine and up and down Figueroa.
The Artist recognizes his disguises.
The Artist, bruised at noon, subversive silence, all vexations, the medicine man's eye; wise watchful; rain cloud sincerity; craftsmanship, enjoyment and style in all pursuits. Growing to understand life, the process, less and less and in this, learning to love it more and more...
I am the underdog. The honked at. Been called faggot and sissy. Been stood up and not called back and ignored. Passed over. Laughed at. Not included. Snubbed. Asked if I spoke English. It makes me feel wonderful. Always on the outside of whatever side there is. I am an Artist. I can say that now and it doesn't shiver me at all. I too, am not sorry — ever.

Coulter Jacobs
San Pedro, Calif
July 7 2022