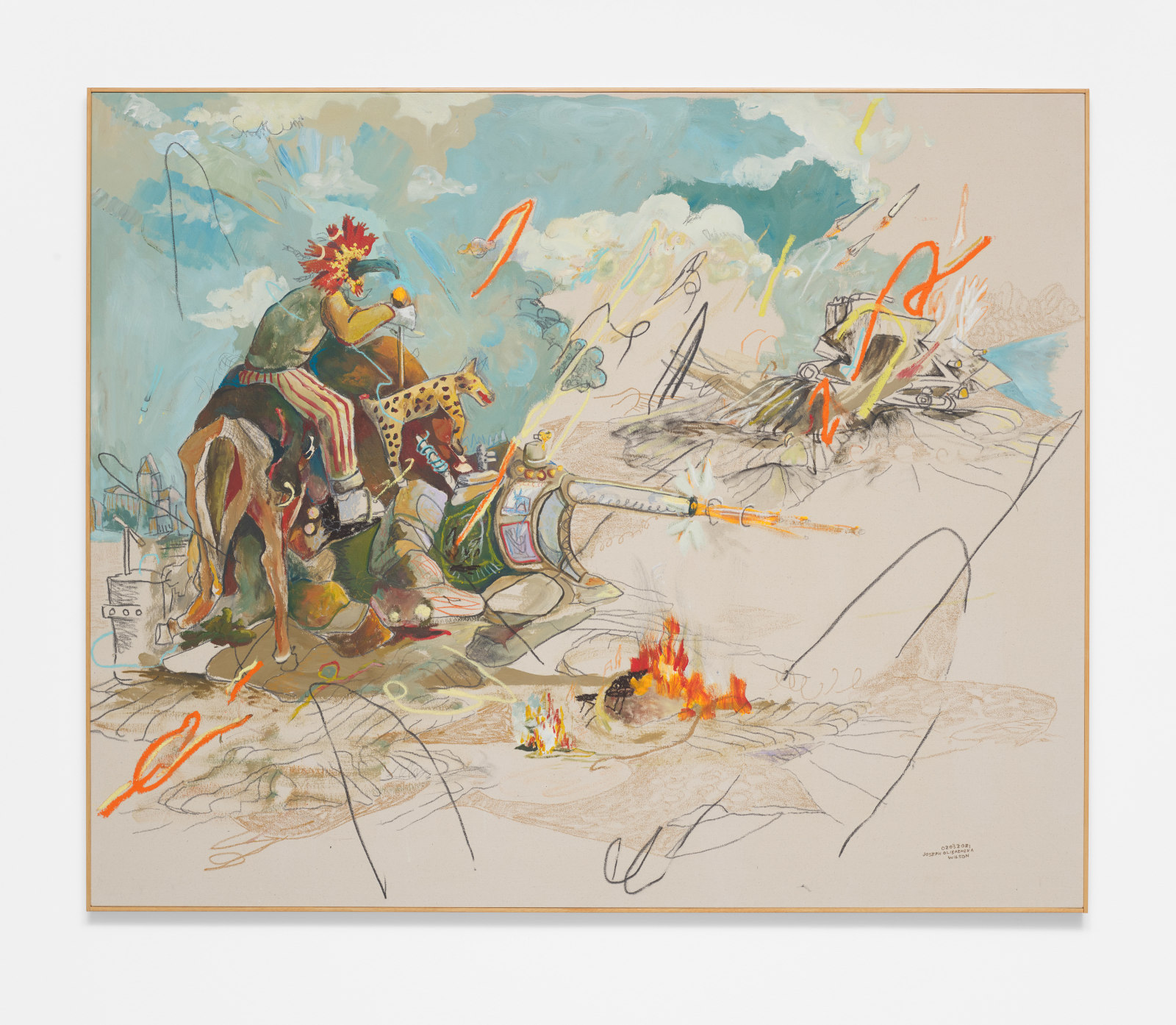 Simchowitz Gallery is pleased to present Olisaemeka, a solo exhibition of work by Joseph Olisaemeka Wilson. This is the artist's first show with the gallery.
Wilson creates chaotic scenes that burst from the edges of the picture plane. The paintings and drawings included in the exhibition exist in a kind of mechanical dystopia where figures and animals collide with wild machinery. Each piece offers a glimpse into the vivid landscape of the artist's imagination.
A series of works on paper depicting various ritual figures offer a more intimate look into Wilson's polychromed worlds. While these figures still exist in the visual realm established by the larger works in the show, the drawings of the artist's Aunty Rose, a sketch of a duck inspired by the work of Winslow Homer, and a loosely rendered image of a woman round out a more familiar look into the artist's universe.
The title of the exhibition comes from the artist's own name. Olisaemeka, translated as "God has done great deeds" from the Ibo language, is a nod to his mother's Nigerian origin. Hinting at an omnipotence within his works, Wilson instills his pieces with the fantastical and invites the viewer to dive into his multivalent creations.
Olisaemeka opens May 15, 2021 and will be on view by appointment through June 5, 2021.

Joseph Olisaemeka Wilson (b. 1999, Los Angeles; lives and works in New York, NY) divines fantasies and allegories in his paintings and works on paper. Ritual dances and interstellar rovers comingle as much as video game scenes and family histories. Working at a quick pace, Wilson's world feels at once lush and spare, ancient and futuristic, existing in a liminal time that we may have already or not yet crossed into.