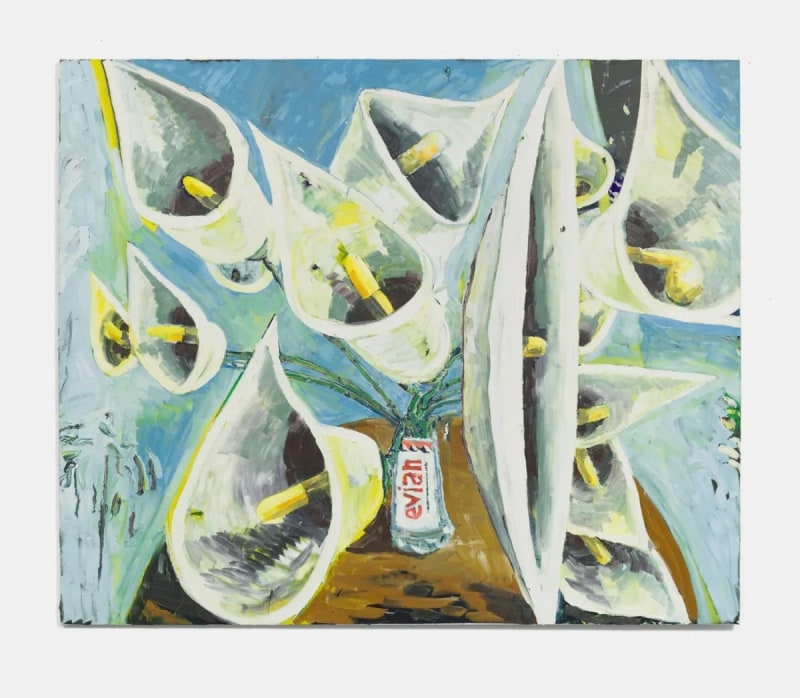 Simchowitz is pleased to present Alcatraz, Ken Taylor Reynaga's first exhibition in our DTLA location. The works in Alcatraz include a collection of newly completed oil paintings, works on paper and ceramics. In the paintings, Ken Taylor Reynaga uses the Alcatraz (Calla Lily) to explore both the art historical and personal cultural significance of the flower.
In making this work, Ken Taylor Reynaga draws inspiration from seminal figures such as Georgia O'Keeffe and Diego Rivera and the ways in which they use flora motif as a conceptual entry point. The artist explores his own relationship to flora, in this instance the Alcatraz (Calla Lily) specifically, and its cultural importance. As a Mexican-American artist born in Southern California, Ken Taylor Reynaga knows the flowers as a centerpiece included in celebrations of life and death. Using painting as a language to speak about the more existential aspects of his process-based practice, the artist explores texture, color and gestural application through the interwoven eloquence of the motif—the Alcatraz (Calla Lily).
Ken Taylor Reynaga (b. 1990, Lynwood, California) works with oil paints and glazed ceramics to construct a distinct visual vernacular. Using emblematic representations of wild birds, various flora, and personal possessions, the artist assembles a diaristic index of imagery that reveals a sincere and nostalgic attitude toward his immediate environment, perceptions, and experiences. Blurring the lines between abstraction, figuration, and still life, Ken Taylor Reynaga aims at capturing the sublime by skillfully rendering whimsical and sentimental imagery with a uniquely warm and approachable visual style.
Ken Taylor Reynaga received his BA in 2014 from California State University. His work has been presented in solo exhibitions at Simchowitz, Los Angeles; The Mistake Room, Guadalajara; The Newsstand Project, Los Angeles; Capital Gallery, San Francisco. His works have been included in group exhibitions at Fort Gansevoort, New York; The Pit, Los Angeles; Ever Gold [Projects], San Francisco; Steve Turner, Los Angeles; Penske Projects, Montecito.