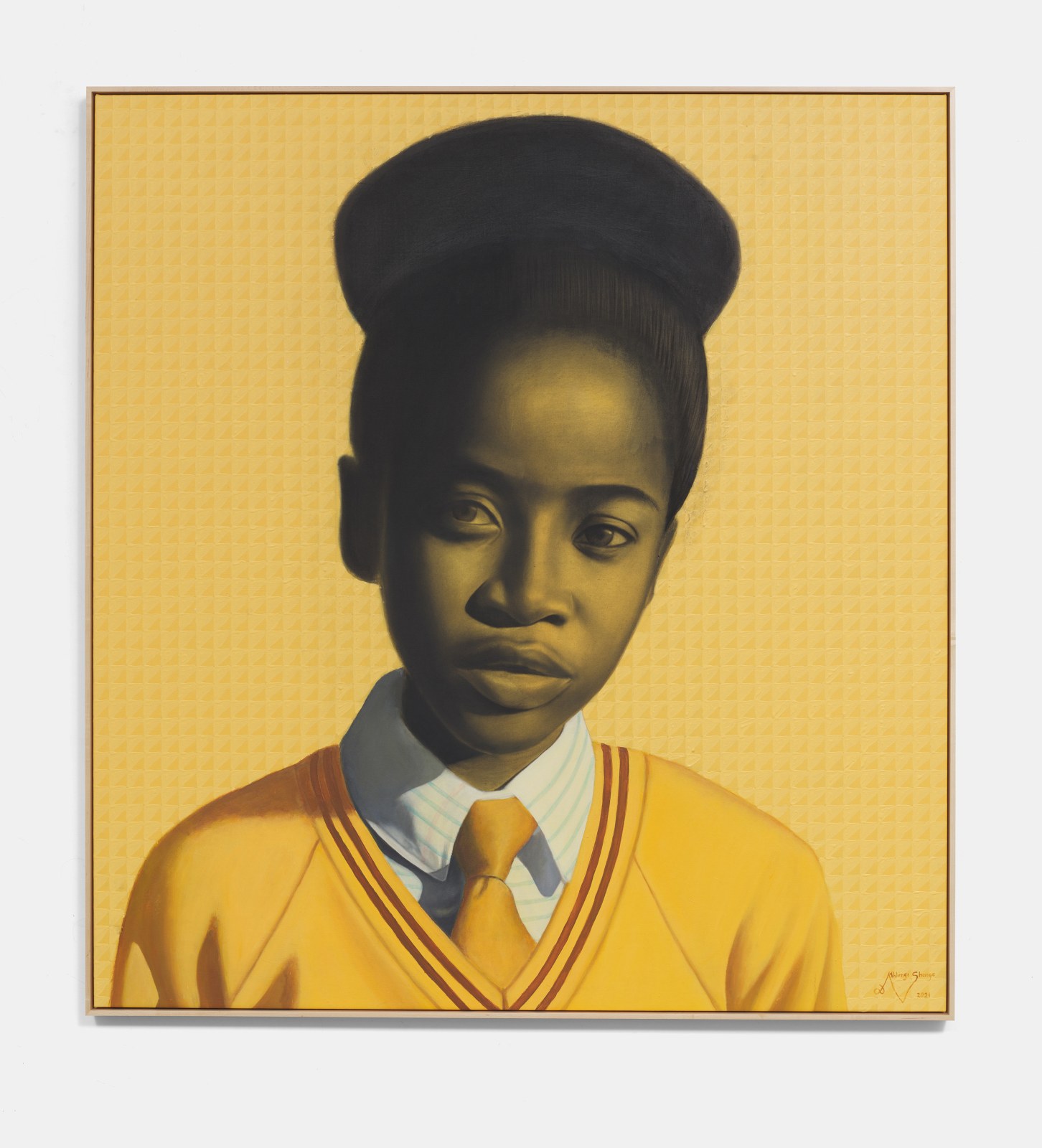 For "New Generation", Mhlengi Shange's first solo exhibition, and his first ever show in the United States, the artist presents intimate charcoal-and-acrylic portraits that look back upon his school days in Kwadabeka, South Africa. In these images, all featuring teenage students in uniform, eyes are especially highlighted, giving us a strong sense of the inner life of each sitter. Furthermore, many of the works includes distinct backgrounds that suggest something particular about the subjects on view. In Dreams Come True, 2022, we see the head and shoulders of a young man staring straight ahead in his proper-looking red sweater and tie. Behind him, a cloud-like yellow abstract mass with black striations and dots evokes his dreamlife, his future, as well as the unknown. A similar shape appears behind the boy in Hlal' ethembeni II (Stay in Hope II), 2022, although in this case, the dark areas appear more storm-like, and the student, looking worriedly off into the distance, seems perturbed.
The worried theme continues in Thinking About My Future, 2021. In this piece, the adolescent stands in front of a schoolhouse, ominous saturated yellow clouds forming in the background, matching his outfit. He too gazes to the side, his crinkled brow implying an uncertainty and concern for what lies ahead. Andile, 2021, similarly shows a boy looking to the side and downward, as if anxious and depressed. And yet, some of the students possess a glimmer in their eye, such as the mischievous young girl in Untitled 3, 2021. Her slightly upturned lips and bright gaze suggest a secret or something up her sleeve; she's fun and perhaps defiant, or at least somewhat inclined toward trouble-making.
Elements of true joy emerge in some of Shange's portraits, such as the smiles of the subjects in Philasande, 2021, and Luyande, 2021. In the latter work, as in Swelihle, 2021, the young boys' full bodies appear in front of a cheery yellow geometric background, standing upon pink linoleum tiling. The environment, though clinical, still feels welcoming and approachable in terms of color palette. Although the boy in Swelihle does appear a bit anxious and uncertain, his crisp uniform and the clean lines and color fields give the viewer at least some sense of positivity. And although the three girls in Mnge, 2021, each wearing a blue sweater and a yellow skirt, give looks that could be described as somber, the closeness of their bodies and their intertwined limbs tell us they may have more optimism and hope than their teenage selves often care to admit.