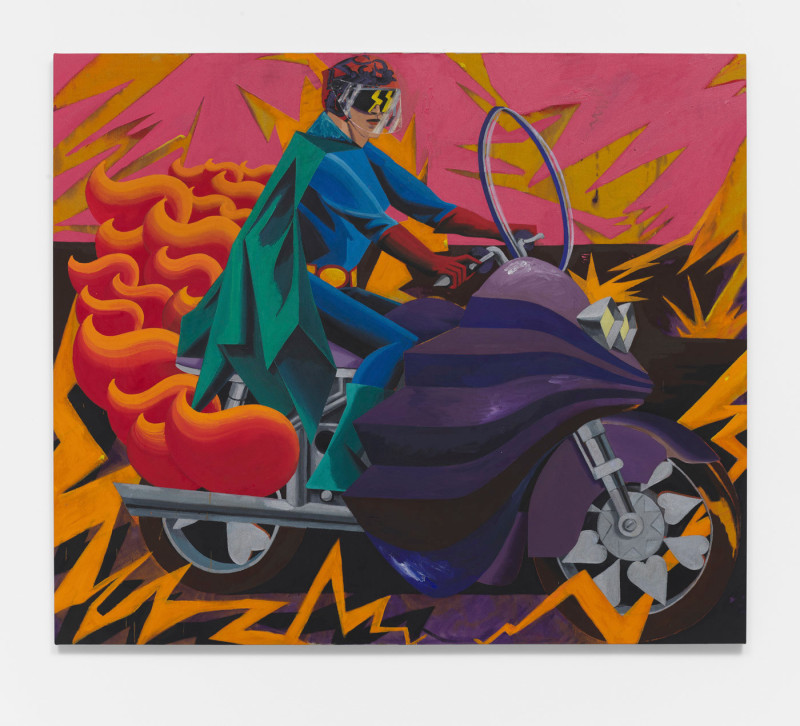 Simchowitz is pleased to present Rider of the Apocalypse, Miroslav Pelák's first solo exhibition in the gallery's DTLA location. As with much of Pelák's work, the paintings featured in Rider of the Apocalypse offer social commentary, and at times mock, the current political realities and "norms" of Central Europe. The titular "riders" are a reference to the New Testament's four horsemen of the apocalypse –representing conquest, war, famine, and death – approximate the artist's view on the current state of politics.
Pelák's work is stylistically and conceptually a postmodern hybrid, often touching on the topics of brutality, relativism, and irony. The figures in the artist's paintings are depicted through a multitude of viewpoints simultaneously, resembling cubist style. The artist cites the oversized, disproportionate silhouettes as a reference to the communist era, where posters enforced a social contract, denying the majority of citizens a chance for rational thought–something he believes continues through other modalities today. Through his work, Pelák aims to shed light on and disrupt the destructive values of the status quo, from politicians and their unfulfilled obligations to civilians and their thirst for luxury goods.
The exhibition runs from November 17th—December 8th, 2022 at Simchowitz DTLA (entrance located on 720 East 18th Street, Los Angeles, CA 90021), with an opening reception from 10AM - 1PM on Thursday, November 17th. To schedule an appointment, please contact us at info@simchowitz.com.
Miroslav Pelák (b. 1992) is an artist based in Bardejov, Slovakia. He graduated from the Academy of Arts, Architecture and Design in Prague, with a degree in Studio Painting. He was recently a finalist for the "Price of Critique 13." in Prague. His paintings grapple with social and political issues–appropriating the language of modernism and social realism, he critiques current events and politics of his surroundings. He strives to evolve and reshape traditional painting styles in the context of everyday life.