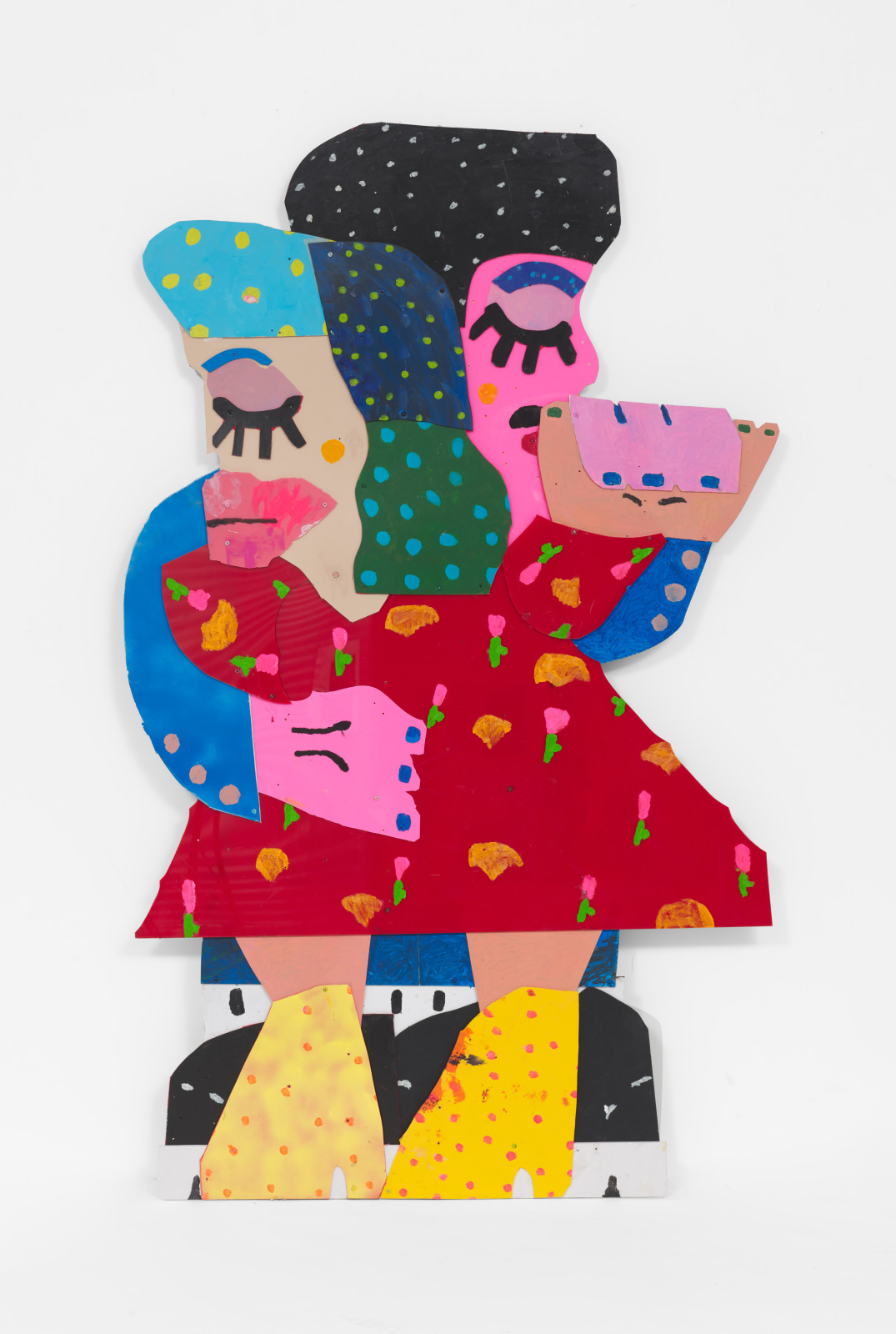 Simchowitz is pleased to announce Lovers at Large, paintings and sculptures by Sammy Binkow in his first exhibition with the gallery.
A San Fernando Valley native, Sammy Binkow was raised by a game show-producing father and an art teaching mother. Watching his family take ideas from the breakfast table and turn them into polished television productions (Sammy's sister is in the game show industry as well) sparked Binkow's creative instinct at a young age. He sought out advice from his mother, who pointed him down the long road of art history and introduced him to a canon of painters and sculptors. If a game show and art-teaching household wasn't a recipe to begin making art, it would be all the stranger.
Sammy Binkow works between painting, sculpture, and textile in his highly iconographic, iterative practice. Binkow's vocabulary is all to his own, incorporating text and loopy figuration into maplike compositions. His confessional paintings (which shakily remind the viewer, to "be cool," and say "sorry") are beguiling for their homespun feel and the consistency between works – regardless of medium. Binkow's prints have even appeared as costuming for Post Malone and Portugal. The Man, the artist bringing his Stuart Davis-influenced patterns to the stage. Binkow seems to have an infinite amount to share with the viewer, his compositions responding gracefully between large and small paintings, costume, animation, and sculpture.
Through his most recent sculptural work, Binkow has pushed his aesthetic to consider the human form and heartfelt depictions of love and acceptance. These wall sculptures warp his penchant for text into scrawled handwriting, echoing the prodigious scribes of outsider art and bathroom stall graffiti. Figures entangle - dog-eared tattoos and smashed sneaker logos mesh with the lighthearted touch of collage to form these dazzling life-size figures.
As multiple bodies intertwine, it's clear Binkow is interested in differentiation: how language, text, and people are subtly, infinitely, different.
Sammy Binkow is based in Los Angeles.