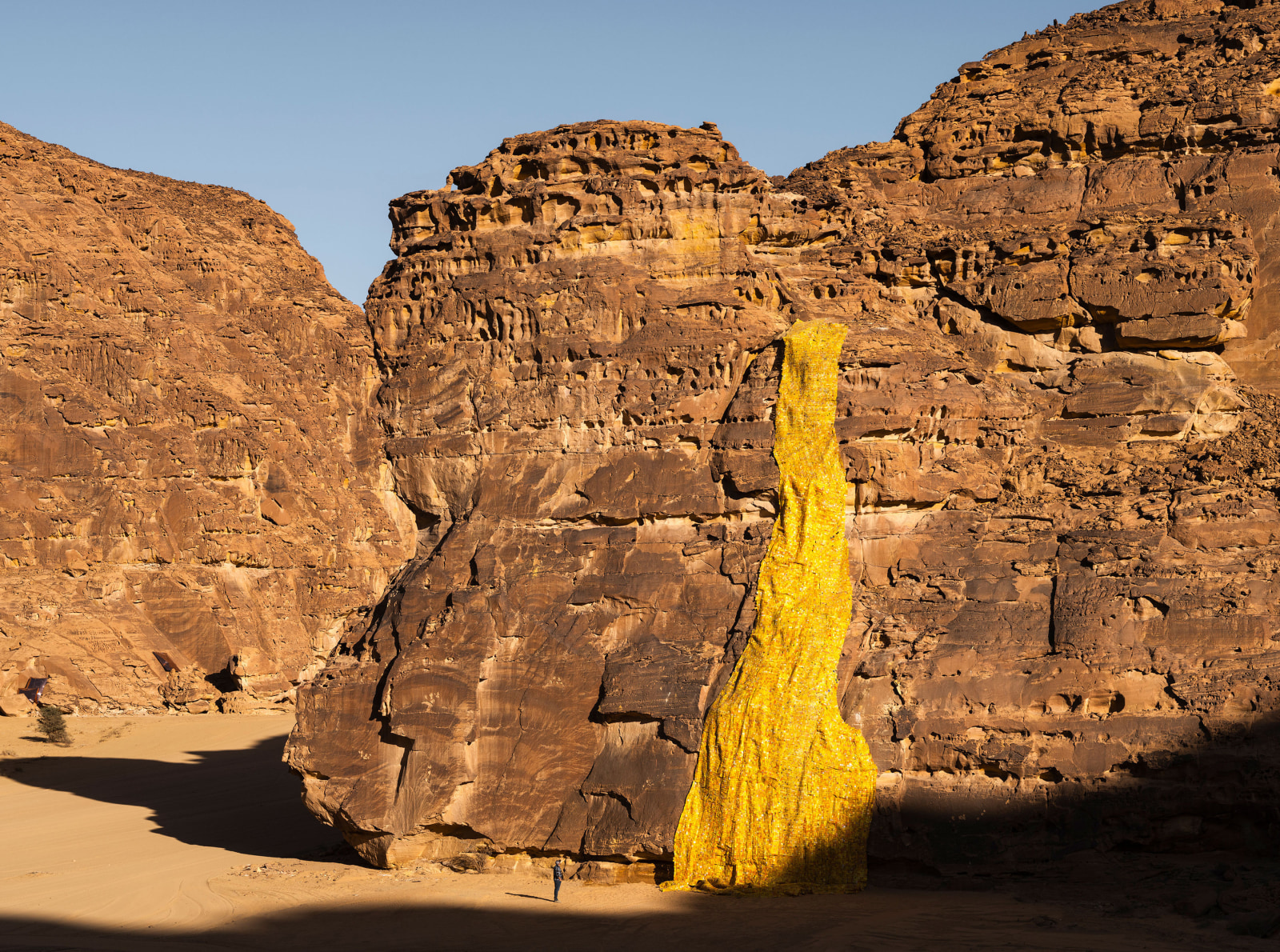 Press Release by Desert X
A crucial starting point for the artist's Afrogallonism projects is the Kuofor jug, a yellow plastic gallon container that is ubiquitous in Accra. Historically used to import cooking oil and frequently repurposed as vessels for water storage, the containers are cut into small tiles and bound with copper wire. The jugs are used as means to raise awareness of the water access crisis and to call local communities into action.
Through cutting, drilling, stitching, and melting materials, Clottey's installations are bold assemblages that act as means of inquiry into global consumption, climate change, and the languages of form and abstraction. Gold Falls expounds on a through line in his practice, with the yellow plastic fragments constructing an aurulent mirage draped along the desert rock surfaces in the canyon valleys of AlUla. It appears as a waterfall unfolding and cascading on the rocks, both in mimicry and dissonance. Its golden yellow shining on these cliffs is simultaneously representative of the wealth and the lack of it within this bereft yet naturally resplendent place.
Serge Attukwei Clottey (b. 1985, Ghana, based in Accra) works across the disciplines of painting, sculpture, installation, performance, and photography to explore personal and political narratives rooted in histories of trade and migration. Interested in the potency of everyday interactions and objects, his practice is united with the motif of the yellow Kuofor gallon. He has paired them with other materials such as jute sacks and discarded tires, and he's transformed them into props and set pieces in his performances. Clottey has exhibited in New York, Los Angeles, Accra, Berlin, Dakar, and Desert X 2021 in California. His work is in collections including the Nubuke Foundation in Accra, Modern Farms in the United Kingdom, and the World Bank Art Program.