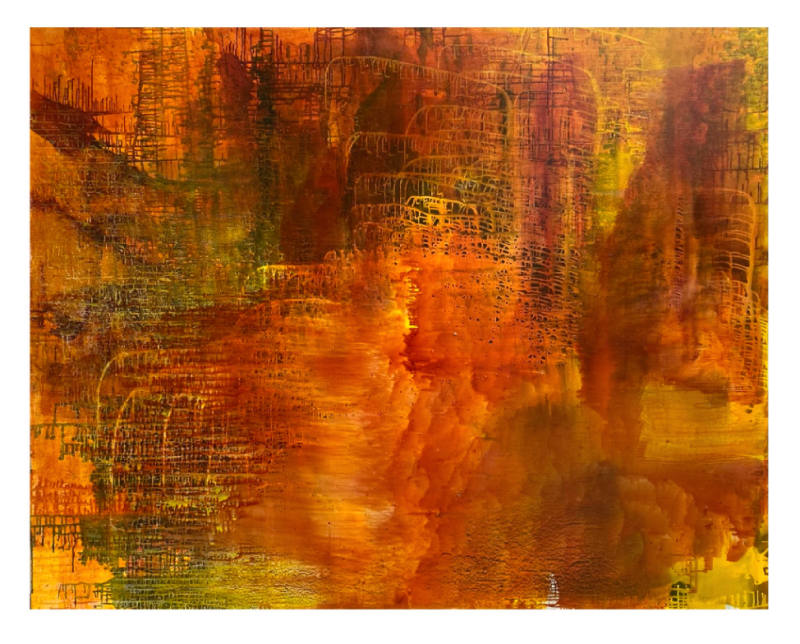 "There are some enterprises in which a careful disorderliness is
the true method" — Herman Melville, Moby Dick
Simchowitz Gallery is pleased to present Spider Brittle, T.J. Bohm's first show with the gallery. The exhibition includes evocative abstract drawings and paintings of varying scales produced over the past year. The New York-based artist is fixated on the broad concept of foundations, conceptually grounding his work in observations about his surroundings.
Growing up the son of a contractor, Bohm often encountered broken or dilapidated architectural foundations in his youth, and his new painting series harken back to these memories. In his paintings he layers pattern and line to build his own imagined environments and worlds. The artist maps different aspects of his life within a similarly structured rubric. Bohm is fixated on ordering the otherwise chaotic. In this exhibition, his language is made up of circles, squares, and crosshatching, rendered in repetitive, frantic scrawl.
Bohm's technique likewise juxtaposes order and disorder—he paints at night with the door open, such that bugs find their way into his studio and onto his canvases. Peer in closer at a mark that resembles thickly layered paint, and a viewer might make out the faint outline of a giant mosquito painted over—not your typical impasto. The artist regards his process as meditative, creating quiet, contemplative moments of non representational abstraction within the canvas' frame.
Each painting marks a new journey into his many reference points like labor, the human psyche, and our connection to the universe. He strives to paint works that take on new meaning each time they are seen anew. In many ways, these pieces resemble the ineffable, much like the weather—explosions and clouds and hurricanes moving along a horizon line. For Bohm painting is a medium that encapsulates the energy he wants to put forward.
T.J. Bohm (b.1996, New York) lives and works in New York. He received his BFA in 2018 from Parsons The New School for Design. In addition to Bohm's solo exhibition at Simchowitz Gallery, Los Angeles (2021), his work has been shown in group exhibitions at New Release Gallery, New York (2021), The Newsstand Project, Los Angeles (2020) and Club Pro, Los Angeles (2019).